Penerapan Teknologi Tepat Guna Pembuatan Silika Nano Partikel (SNP) dari Abu Sekam Padi (ASP) pada UKM Penggilingan Padi Gowa
Keywords:
Socialization, Added value, Rice husk, Silica nanoparticle
Abstract
Sulawesi Selatan dikenal sebagai lumbung padi terbesar kedua di Indonesia setelah provinsi di pulau Jawa. Produksi padi yang tinggi didukung pula dengan industri penggilingan padi untuk memisahkan sekam dan beras. Tingginya produksi beras akan berdampak pada tingginya limbah sekam padi yang dihasilkan, pemanfaatan limbah padi untuk menjadi produk yang lebih bernilai tambah sampai saat ini belum dilakukan di usaha kecil menengah (UKM) penggilingan padi di Sulawesi Selatan. Program pengabdian kepada Masyarakat ini bertujuan untuk memberikan keterampilan dan teknologi terhadap UKM penggilingan padi di Gowa, Sulawesi Selatan. Proses pengabdian kepada masyarakat (PKM) dilaksanakan dalam 4 fase, fase identifikasi, fase sosialisasi, dan 2 fase pemantauan. Terdapat 3 masalah utama yang diidentifikasi dari PKM ini, yaitu penumpukan limbah sekam padi, pengolahan limbah sekam yang masih terbatas, dan kesadaran terhadap nilai tambah produk samping. Dari proses PKM didapatkan bahwa 3 masalah tersebut dapat ditangani dengan baik. Terdapatnya peningkatan pengetahuan dan keterampilan para peserta PKM sebesar 100% menjadi rujukan bahwa adanya peningkatan pemberdayaan Masyarakat. Dengan adanya kegiatan PKM akan mengakibatkan pemanfaatan lebih lanjut sekam padi di UKM penggilingan padi Gowa.
References
Aisyiyah Jenie, S. N., Krismastuti, F. S. H., Ningrum, Y. P., Kristiani, A., Yuniati, M. D., Astuti, W., & Petrus, H. T. B. M. (2020). Geothermal silica-based fluorescent nanoparticles for the visualization of latent fingerprints. Materials Express, 10(2), 258–266. https://doi.org/10.1166/mex.2020.1551
Alfiansyah, Arnelli, & Astuti, Y. (2015). Synthesis of rice husk-based zeolit using hydrothermal method and its detergent builder properties. 5th International Seminar on New Paradigm and Innovation on Natural Sciences and Its Application (5th ISNPINSA) , 7-8 October 2015, ICT Centre Diponegoro University., 148–153.
Badan Pusat Statistik. (2021). Luas Panen dan Produksi Padi di Indonesia 2021 (Angka Sementara). In Berita Resmi Statistik (Vol. 2021). Jakarta. Retrieved from https://www.bps.go.id/publication/2022/07/12/
Hossain, S. K. S., Mathur, L., & Roy, P. K. (2018). Rice husk/rice husk ash as an alternative source of silica in ceramics: A review. Journal of Asian Ceramic Societies, 6(4), 299–313. https://doi.org/10.1080/21870764.2018.1539210
Prasad, R., & Pandey, M. (2012). Rice Husk Ash as a Renewable Source for the Production of Value Added Silica Gel and its Application: An Overview. Bulletin of Chemical Reaction Engineering & Catalysis, 7(1). https://doi.org/10.9767/bcrec.7.1.1216.1-25
Riveros, H., & Garza, C. (1986). Rice husks as a source of high purity silica. Journal of Crystal Growth, 75(1), 126–131. https://doi.org/10.1016/0022-0248(86)90233-2
Sadeghi, M., Dorodian, M., & Rezaei, M. (2013). Synthesis and Characteristic of Precipitated Nano-Silica. JOURNAL OF ADVANCES IN CHEMISTRY, 6(1), 917–922. https://doi.org/10.24297/jac.v6i1.5539
Zou, Y., & Yang, T. (2019). Rice husk, rice husk ash and their applications. In Rice Bran and Rice Bran Oil: Chemistry, Processing and Utilization. Elsevier Inc. https://doi.org/10.1016/B978-0-12-812828-2.00009-3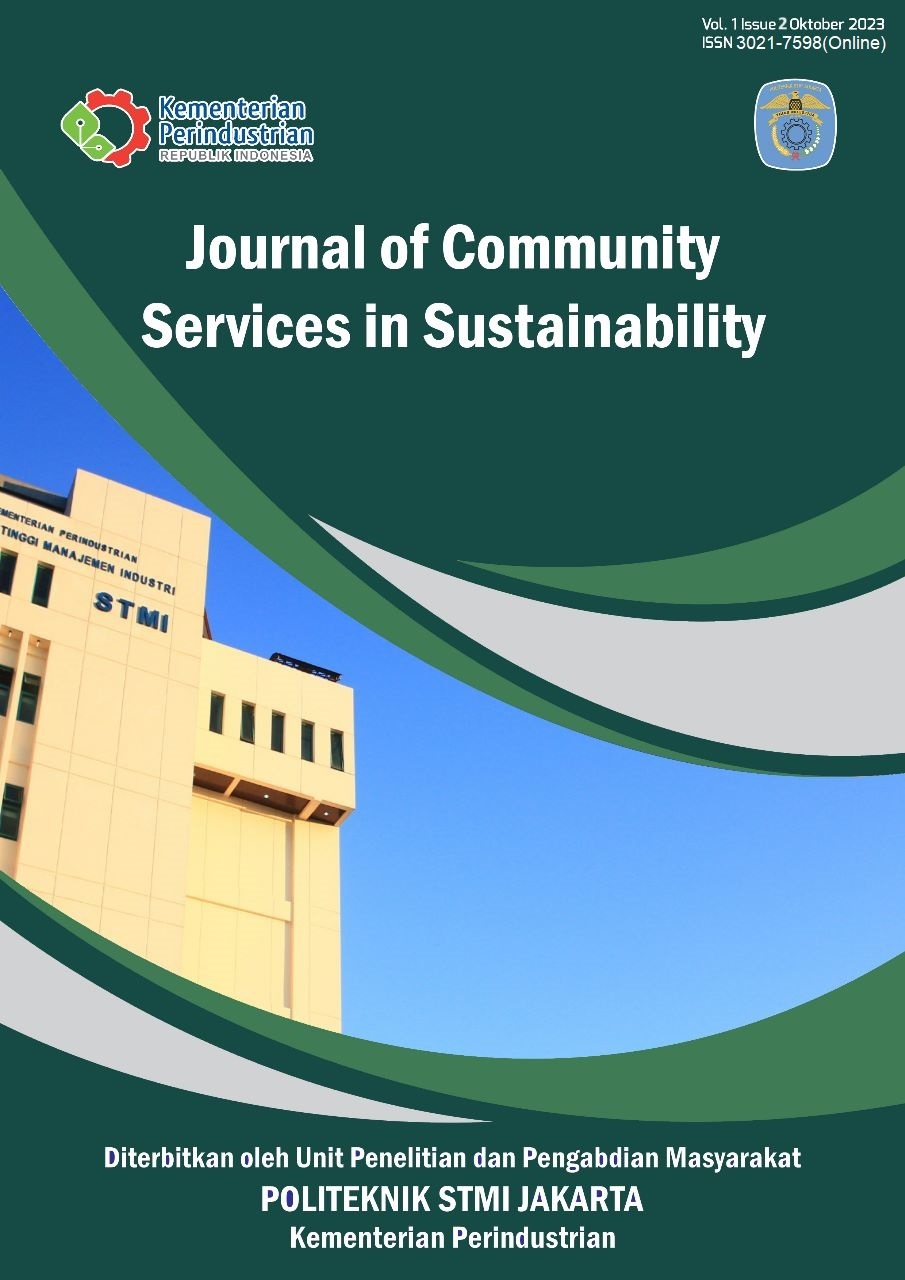 Downloads
How to Cite
Prameswara, G., Sariwahyuni, S., Buwardah, S., Prasetia, F., Azwar, M., & Syafri, R. (2023). Penerapan Teknologi Tepat Guna Pembuatan Silika Nano Partikel (SNP) dari Abu Sekam Padi (ASP) pada UKM Penggilingan Padi Gowa. Journal of Community Services in Sustainability, 1(2), 69-76. https://doi.org/10.52330/jocss.v1i2.187
License
Copyright (c) 2023 Journal of Community Services in Sustainability
This work is licensed under a Creative Commons Attribution-NonCommercial 4.0 International License.